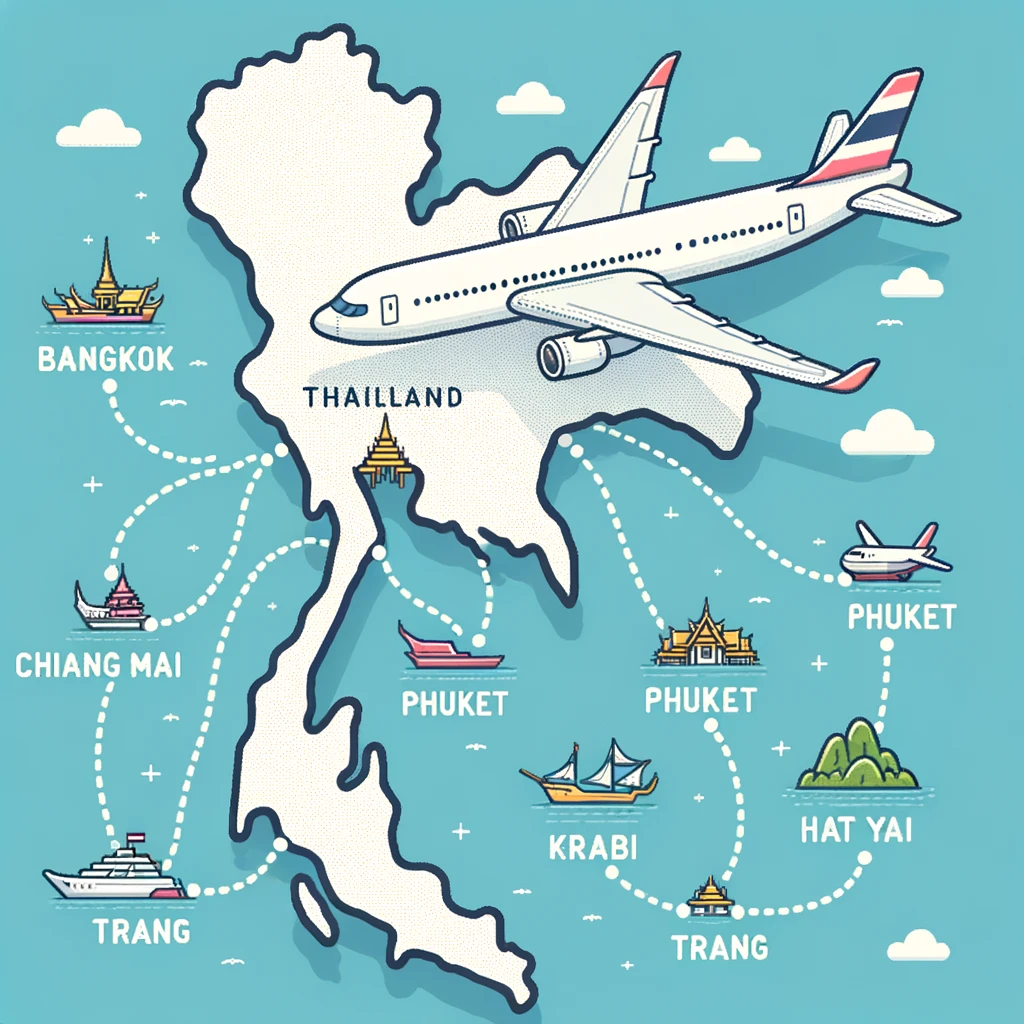 Introduction: Efficient Air Travel Guide: Navigating to Trang with Ease
Trang, a hidden gem in southern Thailand, is a destination that offers stunning natural beauty and authentic local experiences. For travelers seeking to explore this enchanting province, air travel is undoubtedly the most efficient way to reach Trang. With its well-connected airport and convenient flight options, navigating to Trang has never been easier.
Upon arrival at Trang Airport (TST), located just 7 kilometers from the city center, you will be greeted by warm Thai hospitality and a seamless immigration process. The airport itself exudes tranquility with its open-air design and lush tropical surroundings. Once you have collected your baggage and cleared customs, transportation options are readily available outside the terminal building.
Whether you prefer private transfers or shared minivans, there are numerous reliable transport services that can take you directly to your accommodation in Trang town or any other desired location within the province. This ensures a smooth transition from air travel to exploring all that Trang has to offer.
For those who appreciate convenience combined with affordability, several domestic airlines operate regular flights between Bangkok's two major airports – Suvarnabhumi International Airport (BKK) and Don Mueang International Airport (DMK) – as well as Phuket International Airport (HKT) and Krabi International Airport (KBV). These direct flights provide an excellent connection for international travelers arriving in Thailand who wish to continue their journey seamlessly onward to Trang without any hassle of layovers or additional transfers.
Moreover, it's worth noting that flying into Trang allows visitors easy access not only to its charming capital but also nearby attractions such as Koh Libong Island known for its rare dugongs sightings; Pak Meng Beach offering pristine sandy shores; breathtaking waterfalls like Namtok Ton Tei; picturesque caves like Tham Le Khao Kob where stalactites create mesmerizing formations; plus much more!
In conclusion, choosing air travel as your mode of transportation when heading to Trang ensures a hassle-free and time-efficient journey. With convenient airport facilities, reliable transport options, and excellent flight connections from major cities in Thailand, you can arrive in Trang with ease and begin your exploration of this captivating destination without delay.
Trang Airport: Your Gateway to Paradise
Trang Airport, also known as Trang International Airport, serves as the main gateway to the pristine paradise of Trang. Located just 7 kilometers from the city center, this modern airport offers a convenient and efficient arrival point for travelers looking to explore all that this enchanting destination has to offer. With its well-connected flight network and top-notch facilities, Trang Airport ensures a seamless travel experience right from touchdown.
Whether you're arriving on a domestic or international flight, you'll find that Trang Airport caters to all your needs with its range of amenities. From duty-free shops offering local handicrafts and souvenirs to dining options serving up delicious Thai cuisine, there's plenty to keep you occupied while waiting for your departure or connection. The airport also provides easy access to transportation options such as taxis and car rentals, making it simple for visitors to reach their desired destinations in no time.
As one of Thailand's lesser-known gems, Trang boasts breathtaking natural beauty and an idyllic island lifestyle that is bound to captivate even the most seasoned traveler. With its crystal-clear waters teeming with marine life and powdery white sand beaches fringed by lush greenery, it's no wonder why many consider Trang a slice of paradise on earth. And thanks in large part to the convenience offered by Trang Airport's location near these stunning attractions; getting there has never been easier.
Visitors can choose from various airlines operating flights into Trang Airport including both domestic carriers like Thai Airways and Air Asia as well as international airlines such as SilkAir which operates direct flights from Singapore.
So whether you're planning a relaxing beach getaway or seeking adventure amidst nature's wonders in one of Thailand's hidden gems; let Trang Airport be your starting point on this unforgettable journey or consider other options some other options for traveling to Trang
"Smooth Sailing: The Pros & Cons of Trang Travel"
Please note that these pros and cons are subjective and may vary based on individual preferences and experiences.
Pros
Beautiful natural attractions: Trang is home to stunning beaches, islands, and national parks.

Authentic local experiences: The city offers a chance to immerse yourself in Thai culture and interact with friendly locals.

Less crowded than other tourist destinations: Trang provides a more peaceful and relaxed atmosphere compared to popular tourist hotspots.

Delicious local cuisine: Indulge in mouthwatering seafood dishes and unique southern Thai flavors.

Affordable prices: Trang offers great value for money, with cheaper accommodation, food, and activities compared to other tourist destinations in Thailand.

Easy access to nearby islands: Trang serves as a gateway to the picturesque islands of Koh Mook, Koh Kradan, and Koh Ngai.
Cons
Limited international flight options: Trang Airport has fewer international flights compared to larger airports in Thailand.

Language barrier: English may not be widely spoken in Trang, which can make communication challenging for non-Thai speakers.

Limited nightlife scene: If you're looking for a vibrant party atmosphere, Trang may not offer as many options as other cities in Thailand.

Lack of public transportation: Getting around Trang can be more difficult without a car or scooter rental due to limited public transportation options.

Weather considerations: The rainy season (May-October) can affect travel plans and limit outdoor activities during that time.

Limited shopping opportunities: Trang may not have as many shopping malls or markets compared to larger cities like Bangkok or Phuket.
Direct Flights to Trang: Connecting with Convenience
Trang is a hidden gem in southern Thailand, known for its untouched beaches, tranquil islands, and vibrant culture. For travelers seeking a hassle-free journey to this beautiful destination, direct flights to Trang offer the perfect solution. With several airlines operating regular flights from major cities like Bangkok and Phuket, connecting with convenience has never been easier. Whether you're looking to escape the bustling city life or explore the natural wonders of Trang province, flying directly allows you to make the most of your time and enjoy a seamless travel experience.
Upon arrival at Trang Airport (TST), located just 7 kilometers from downtown Trang, passengers can expect efficient immigration procedures and friendly staff ready to assist with any inquiries. The airport itself may be small compared to some international hubs but provides all essential facilities including car rental services, currency exchange counters, and taxi stands conveniently located outside the terminal building.
For those traveling from overseas or other parts of Thailand via connecting flights through Bangkok's Suvarnabhumi International Airport (BKK) or Don Mueang International Airport (DMK), there are various options available that ensure smooth transitions between airports. Many domestic carriers provide convenient connections between these two airports in Bangkok within reasonable layover times so that passengers can catch their onward flight without undue stress.
It is worth noting that booking your ticket well in advance will not only secure better rates but also increase your chances of finding more suitable flight timings for your journey. Direct flights tend to operate on specific days of the week depending on airline schedules; therefore planning ahead ensures greater flexibility in choosing departure dates and helps avoid unnecessary wait times due to limited availability.
Once you have arrived at Trang Airport or connected seamlessly through another Thai airport onto your final leg towards paradise – it's time to embark on an exciting adventure! From here onwards transportation options such as taxis or rental cars are readily available for those who prefer exploring independently while local tour operators offer organized transfers to popular destinations such as the breathtaking islands of Koh Mook, Koh Ngai, and Koh Kradan.
In conclusion, direct flights to Trang provide an excellent opportunity for travelers seeking a convenient and efficient way to reach this enchanting destination. With regular connections from major cities in Thailand and seamless transitions between airports for international passengers, getting here has never been easier. So sit back, relax and get ready to embark on an unforgettable journey filled with sun-kissed beaches, emerald waters, and warm Thai hospitality.
Alternative Airports: Exploring Nearby Options
If you're planning a trip to Trang, Thailand, and want to explore alternative airport options, there are a few nearby choices that may suit your needs. One such option is the Krabi International Airport, located about 123 kilometers from Trang. This airport offers both domestic and international flights and is well-connected to various major cities in Asia. With its modern facilities and efficient services, Krabi International Airport provides an excellent gateway for travelers looking to reach Trang.
Another alternative airport worth considering is the Phuket International Airport, situated approximately 185 kilometers away from Trang. As one of the busiest airports in Thailand, Phuket International offers numerous flight options from different airlines. It serves as a convenient entry point for tourists visiting popular destinations like Patong Beach or Phi Phi Island before making their way down to Trang. While it may require additional travel time compared to flying directly into Trang's own airport, exploring these nearby alternatives can provide flexibility in terms of flight availability and potentially save you some money on airfare.
Travel Tip: Before choosing an alternative airport, make sure to check transportation options available between the chosen airport and Trang city center.
"Quick Connections: Flight Times to Trang"
| Airline | Departure City | Departure Time | Arrival City | Arrival Time | Duration |
| --- | --- | --- | --- | --- | --- |
| AirAsia | Bangkok | 08:00 AM | Trang | 09:30 AM | 1h 30m |
| Thai Airways | Phuket | 10:15 AM | Trang | 11:00 AM | 45m |
| Nok Air | Chiang Mai | 12:30 PM | Trang | 02:15 PM | 1h 45m |
| Bangkok Airways | Krabi | 03:45 PM | Trang | 04:30 PM | 45m |
| Thai Smile | Surat Thani | 05:20 PM | Trang | 06:00 PM | 40m |
| AirAsia | Kuala Lumpur | 07:45 PM | Trang | 08:50 PM | 1h 5m |
| Thai Airways | Singapore | 09:30 PM | Trang | 10:45 PM | 1h 15m |
| Nok Air | Hat Yai | 11:15 PM | Trang | 11:55 PM | 40m |
Optimizing Layovers: Making the Most of Your Time
When it comes to optimizing layovers and making the most of your time, there are a few strategies that can be employed. Firstly, consider choosing flights with longer layovers as this allows for more exploration or relaxation during your transit. Many airports offer amenities such as lounges, spas, and even fitness centers where you can unwind and recharge before continuing on with your journey. Secondly, research the airport beforehand to identify any nearby attractions or points of interest. Some airports may have convenient transportation options into the city center which enables you to do some sightseeing or try local cuisine during your layover.
Another way to maximize your time is by planning ahead and booking a guided tour specifically designed for travelers in transit. These tours often provide an efficient itinerary tailored to fit within the duration of your layover while still allowing you to experience key highlights of the destination. Additionally, if you prefer exploring independently, make sure to check visa requirements beforehand as some countries allow for short-term visits without requiring a full visa.
Lastly, take advantage of technology and download helpful travel apps that provide information about airport facilities, maps, dining options, and even real-time flight updates. These apps can help streamline navigation through unfamiliar airports and ensure timely connections between flights.
By implementing these tips into your travel plans when faced with a layover en route to Trang,Thailand,you will be able optimize every moment spent at an airport,making it not only bearable but also enjoyable partofyourjourney
Conclusion: Smoothly Arriving at Your Trang Adventure
After a long and exciting journey, you have finally arrived at your Trang adventure! As you step off the plane and into the airport, take a moment to appreciate the warm hospitality of Thailand. The airport staff are friendly and eager to assist you with any questions or concerns you may have. From here on out, it's all about making your way smoothly through customs and immigration.
Navigating through customs can sometimes be an intimidating process, but fear not! Follow the signs for "Arrivals" and head towards the designated area. Make sure to have your passport ready along with any necessary travel documents such as visas or entry permits. Remember that duty-free items purchased during your flight should be declared if required by local regulations.
Once you've successfully cleared customs, it's time to collect your luggage from the carousel. Keep an eye out for Trang International Airport signage directing you towards baggage claim. If there are any delays in retrieving your belongings or if they don't appear on the carousel after some time, don't hesitate to approach one of the airport staff members who will gladly assist you in locating them.
With everything gathered securely in hand, it's time to proceed outside where taxis and other transportation options await. If pre-arranged transportation is part of your travel plans, keep an eye out for dedicated pick-up areas or representatives holding signs displaying passenger names or hotel logos.
"Essential Trang Travel Tips for Smooth Flying"
Essential Trang Travel Tips for Smooth Flying:

Plan your trip in advance: Book your flights and accommodation well ahead of time to secure the best deals and availability.

Check visa requirements: Ensure you have the necessary visas and travel documents required for your trip to Trang.

Pack wisely: Pack light and efficiently, keeping in mind any weight restrictions imposed by the airline. Don't forget essential items like travel adapters, chargers, and any medications you may need.

Arrive early at the airport: To avoid unnecessary stress, arrive at the airport at least two hours before your scheduled departure time. This will give you ample time to check-in, clear security, and find your boarding gate.

Dress comfortably: Wear comfortable clothing and shoes that are easy to remove during security checks. Layers are also recommended as cabin temperatures can vary.

Stay hydrated: Airplane cabins tend to be dry, so drink plenty of water before, during, and after your flight to stay hydrated. Avoid excessive alcohol and caffeine consumption, as they can contribute to dehydration.

Bring entertainment: Long flights can be tedious, so bring along books, magazines, or electronic devices loaded with movies, music, or games to keep yourself entertained during the journey.

Stretch and move: During long flights, make sure to stretch your legs and walk around the cabin periodically to prevent stiffness and blood clots. Simple exercises like ankle rolls and shoulder shrugs can also help improve circulation.

Follow airline rules: Familiarize yourself with the specific rules and regulations of your chosen airline, such as baggage allowances, prohibited items, and onboard policies. This will help you avoid any last-minute surprises or inconveniences.

Secure your valuables: Keep your important documents, money, and electronics in a secure place, such as a carry-on bag that stays with you throughout the flight. Consider using travel locks or security pouches for added protection.

Stay connected: If you need to stay connected during your flight, consider purchasing in-flight Wi-Fi or international roaming plans if available. This will allow you to communicate with loved ones or take care of any urgent matters while in the air.

Be respectful and patient: Remember to be respectful to the airline staff and fellow passengers. Patience is key, especially during delays or unexpected situations. Maintaining a positive attitude can go a long way in ensuring a smooth flying experience.
FAQ
1. What airlines offer direct flights to Trang?
There are currently no airlines that offer direct flights to Trang, Thailand. Travelers will need to take a connecting flight from Bangkok or another major city in Thailand to reach Trang.
2. How far is Trang Airport from the city center?
Trang Airport is located approximately 7 kilometers from the city center.
3. Are there any transportation options available from the airport to downtown Trang?
Yes, there are several transportation options available from the airport to downtown Trang. You can choose to take a taxi, hire a private car, or use the airport shuttle service.
4. Can I book a rental car at Trang Airport?
Yes, you can book a rental car at Trang Airport. There are several car rental companies available at the airport, offering a variety of vehicles to suit your needs. It is recommended to make a reservation in advance to ensure availability and to save time upon arrival.
5. Are there any hotels near the airport for a convenient overnight stay?
Yes, there are several hotels near Trang Airport that offer convenient overnight stays. Some popular options include the Rua Rasada Hotel, the Thumrin Thana Hotel, and the Sri Trang Hotel. These hotels provide comfortable accommodations and are located within a short distance from the airport, making them ideal choices for travelers looking for a convenient place to stay before or after their flight.
6. What are some popular attractions in Trang that are easily accessible from the airport?
Some popular attractions in Trang that are easily accessible from the airport include the stunning beaches of Hat Chao Mai National Park, the enchanting Emerald Cave on Koh Mook Island, and the picturesque Koh Kradan Island known for its crystal-clear waters and vibrant coral reefs.